Dronfield Beer & Cider Festival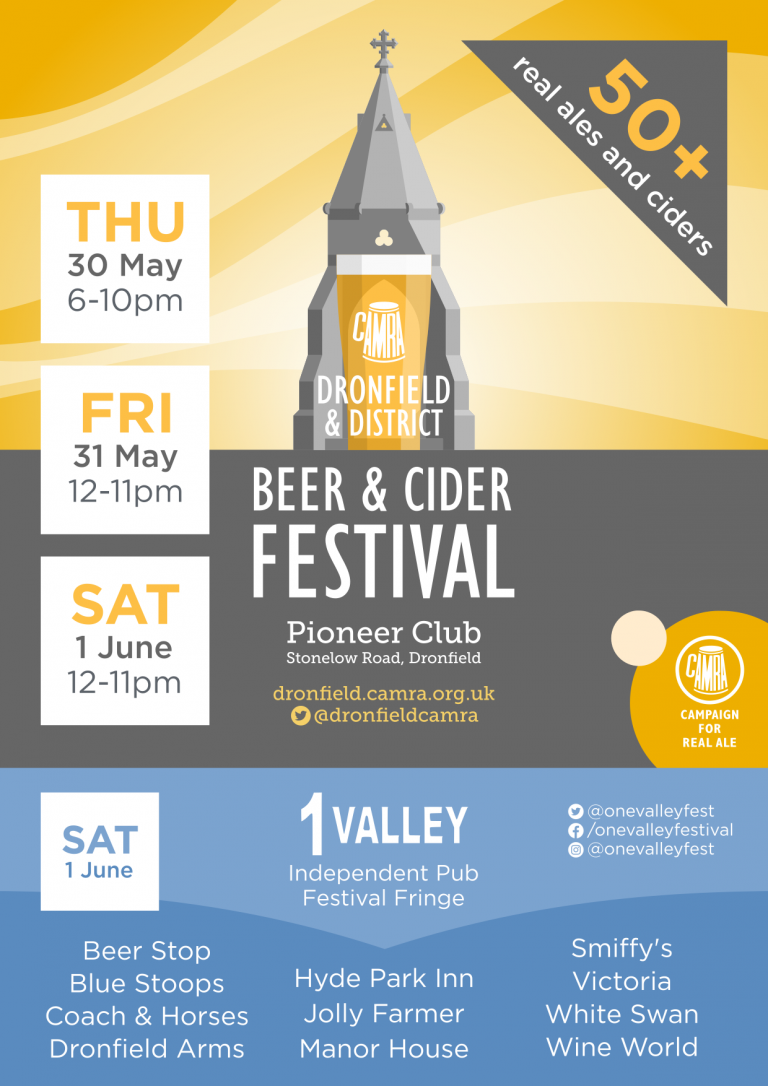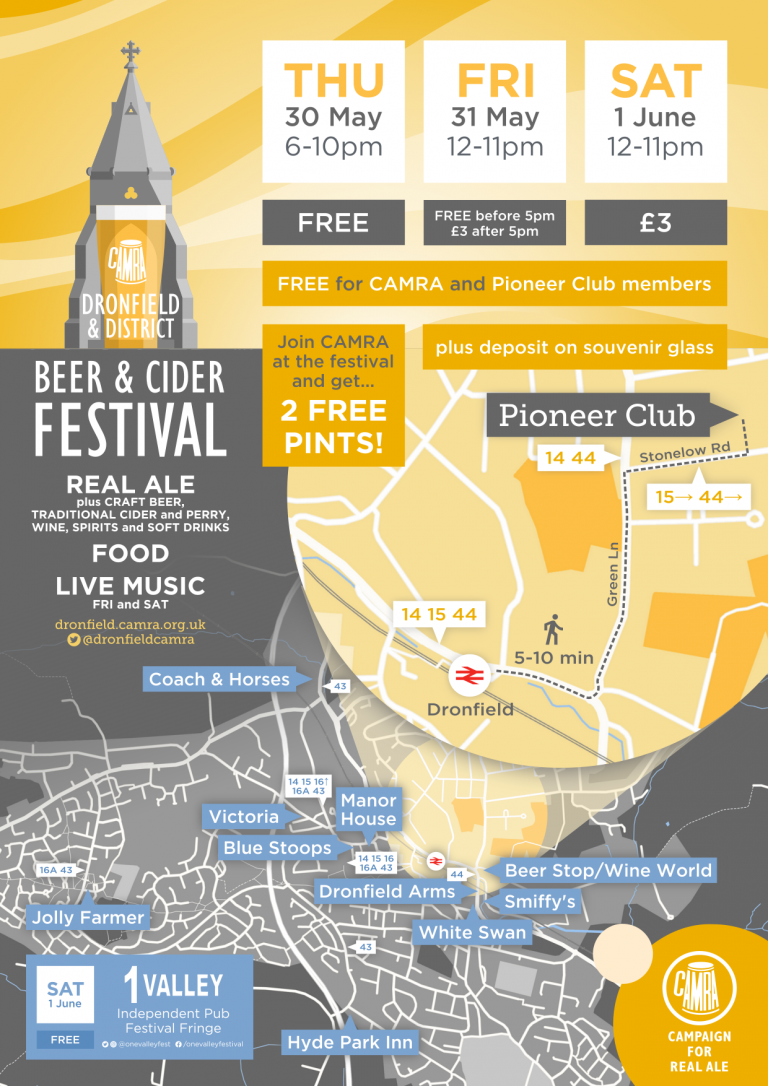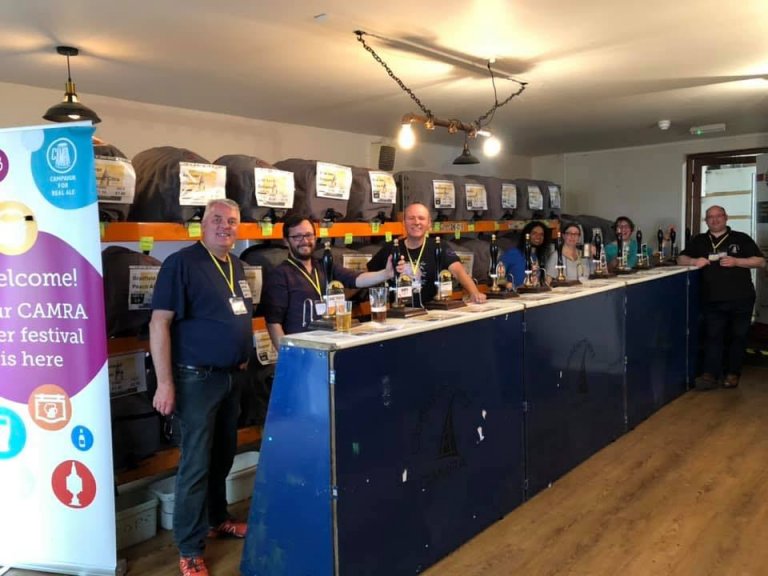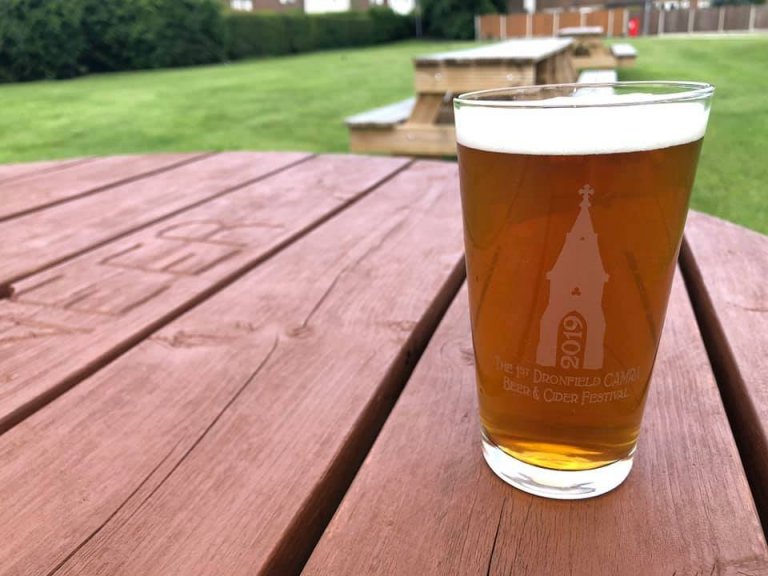 Our first ever Beer & Cider Festival takes place from 30th May to 1st June 2019 and sees us take over the Pioneer Club hosting a pop up bar with a range of over 40 cask ales along with about a dozen traditional ciders and perry.
The Pioneer Club bar will be open as usual serving wines, spirits and soft drinks plus our friends the Bar Stewards will be bringing their craft beer bar with an exciting selection of beers to try on their keg taps.
Food will be available at all sessions, all festival beers will be served in a commemorative glass (available to hire or buy, deposit £2.50) and live music will feature Friday night and Saturday.
Sessions: opening hours, admission costs and entertainment
Thursday 30th May 2019: open 18:00-22:00. Free entry.
Friday 31st May 2019: open 12:00-23:00. Entry £3 after 5pm, free before 5pm.
Live music in the evening: Do$ch (Rhythm & Blues)
Saturday 1st June 2019: open 12:00-23:00. Entry £3
Live music in the afternoon: Ireland Chesterfield Colliery Brass Band
Live music in the evening: Flat Foot Sam (Bar room boogie)
CAMRA and Pioneer Club members enjoy free entry at all times (just pay the glass deposit).
Beer Tokens
The festival bars are cash free and only accept tokens which can be purchased from the token desk. The tokens are in denominations of £1 and 10p and spend like cash, they are sold in £5 strips (if you need less we can do that on request and unused tokens are refundable up to a maximum of £5).
We accept cash or card payment for admissions and tokens.
Programme
A printed programe is available for 50p containing the list of beers featured in the festival and other information (while stocks last).
FAST TO BAR ENTRY PACKAGE
With an entry package you get everything you need to start drinking on arrival, no need to queue up at the token desk before going to the bar.
before 5pm Friday: £10.00 gets you a festival glass, £7.50 of beer tokens and whilst stocks last a printed programme containing the beer list
from 5pm Friday: £15.00 gets you an entry wristband, festival glass, £10.00 of beer tokens and whilst stocks last a printed programme containing the beer list.
VOLUNTEER
CAMRA festivals are organised, run and staffed by volunteers who have a passion for great beer and cider.
The beer & cider lists
We plan to have the full range of cask beers and ciders on sale from opening time on Thursday, there is generally one cask/box/tub of each so when a beer or cider is gone it is gone - so if there are specific beers or ciders you are looking forward to get down as early as possible!
On the Bar Stewards bar there are 8 keg taps. It is expected that each will be dedicated to one brewery and when the first beer runs out the next one on the rotation will replace it. The published list is the rough plan - kegs could potentially get swapped between Dronfield beer festival and their bar in Sheffield and throw up some surprises!
Dronfield beer festival - cask beer list
Dronfield beer festival - cider list.
festival food
The Pioneer Club will be serving simple, value for money hot food and snacks.
Thursday - Pies available to order from the bar
Friday & Saturday - Food stalls outside with burgers, hot dogs, jacket potatoes and Pie & Peas available.
GENERAL INFORMATION
- well behaved dogs welcome
- children welcome in seating areas and outside until 9pm.
- last admission 45 minutes before bars close, last orders 15 minutes before bars close.
The "One Valley" festival fringe:
On the Saturday many pubs around the town will be joining in the festivities with free events to add to your day or night out! Check their social media for more details.
Getting to the festival
Our venue is the Pioneer Club on Stonelow Road, Dronfield S18 2FY.
by bus: Stagecoach 44 (Sheffield-Chesterfield) and TM Travel 15 (Dronfield Civic Centre-Marsh Lane) stop right outside the Pioneer Club
by train: Dronfield station is 10 minutes walk from the venue (or jump on one of the above buses!) and is served by the Northern Leeds-Nottingham train along with selected East Midlands Trains Liverpool-Norwich services. To plan your train journey visit http://www.nationalrail.co.uk.
To walk from the station leave from the southbound platform onto Chesterfield Road and turn right, walk down to the mini roundabout and turn left up Green Lane. When you come to the Mint Leaf Restaurant turn right on Stonelow Road and the Pioneer Club is on your left just after the bus stop.
by taxi: The main local taxi companies are:
Network Taxis 0114 274747
City Taxis 0114 2393939 (or use their app).
SPONSORSHIP
You can support the festival and promote your business to its visitors with one of our sponsorship packages:
- glass sponsorship gets your logo on the commemorative beer glass alongside the festival logo *THANKS TO BRAMPTON BREWERY OUR GLASS SPONSOR*
- beer token sponsorship gets your logo on the back of the beer tokens used by visitors to buy beer and cider at the CAMRA bar. *THANKS TO PEAK ALES OUR BEER TOKEN SPONSOR*
- entertainment sponsorship gets your banner in the stage area where bands will be performing on Friday and Saturday night.
- bar sponsorship gets your branding onto a section of the CAMRA bars.
- beer sponsorship gets your logo on the cask end label - poster and flyer sponsorship gets you included on our printed posters and flyers *THANKS TO ONE VALLEY FESTIVAL OUR POSTER & FLYER SPONSOR*
- general sponsorship gets acknowledgement on posters around the venue, in the programme and on the website.
- staff sponsorship gets t-shirts with your logo and the festival logo issued to the volunteer staff working at the event.
All sponsors also get a number of complimentary entry tickets, glasses and beer tokens, depending on level of sponsorship.
Email moc.emlohwen@bor for more information.
Programme advertising
Our printed programme is being produced on our behalf by Matelot Marketing. If you would like to advertise in the programme please contact them via their website http://www.matelotmarketing.co.uk/